In 2020 Australia's leading research body, the National Health and Medical Research Council (NHMRC) revised the older 2009 recommendations on 'safe' consumption of alcohol. These recommendations outline that drinking any amount of alcohol increases your risk of short and long term health complications. These health risks increase with the amount of alcohol you drink. The revised guidelines take into account the evidence from research, as well as current drinking patterns of Australians, while acknowledging that we mostly choose to drink alcohol, and are not being forced to.
You can read our article about the short and long term health risks associated with excessive drinking here.
Australia's current guidelines on the safe consumption of alcohol
The three guidelines in this updated review are intended to reduce the risk of alcohol-related disease, injury or harm.
Healthy adults should drink no more than 10 standard drinks a week, with no more than 4 standard drinks in one day. The less you drink, the lower your risk of harm from alcohol.

Children younger than age 18 years should not consume any alcohol.

Women who are pregnant or breastfeeding should not consume any alcohol.
These guidelines recommend a lower maximum number of standard alcoholic drinks per week for healthy adults. This is because of new research on the direct link between alcohol consumption, heart disease and some types of cancer. The guidelines are also more definitive in terms of no alcohol consumption for children, pregnant women and women who are breastfeeding.

How you are affected by alcohol depends on how much and how often you drink it, your sex, age, current health and medical status, any medicines you are taking, and your family history in regard to alcohol.
What is a standard drink?
A standard drink refers to any alcoholic beverage that contains 10g of pure alcohol. Alcoholic drinks are made up of alcohol plus other ingredients. This means that the concentration (how much alcohol there is in a certain volume of drink) will vary with the size and type of drink. For example, spirits, such as vodka, gin and rum have a higher amount of alcohol per volume than beer.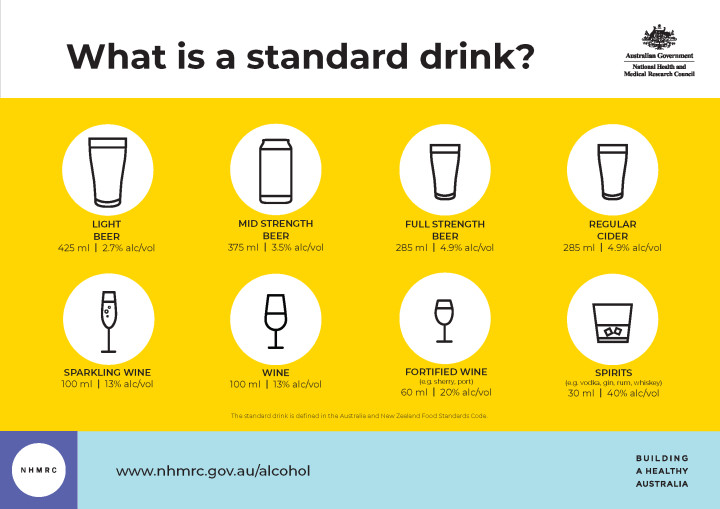 As an example, drinking 285 mL of a spirit such as vodka would be equal to 9.5 standard drinks, compared to 1 standard drink if you were drinking 285mL of full strength beer.
In Australia, you will find the number of standard drinks that a bottle or can contains by looking on the label.